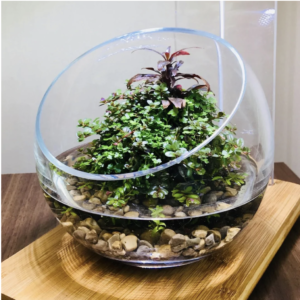 May 19, 2023 | Balin Shaw | Wabi Kusa Workshop
NOTE: There is a 25 person limit on this workshop and registration ends April 15, 2023.
Bailin Shaw will be demonstrating and assisting participants in creating their own Wabi Kusa. Participants can bring their own clear glass containers (easily found in thrift stores – that's where we are getting the ones we will provide). Plants, substrate and a piece of driftwood will be included. You might want to bring other hardscape like rocks.
A wabi kusa is basically a small, coherent portion of plant substrate (usually soil), often formed into balls, with different aquatic plants growing on and from it. The plants are in their emersed form. This has been made popular by Takashi Amano and his company ADA, Aqua Design Amano. Takashi Amano liked to use Wabi-Kusas to efficiently plant bigger aquarium tanks. Instead of laboriously placing aquatic plants one by one with tweezers, he simply took pre-cultivated Wabi-Kusas and placed them on the ground in the aquarium.
In this way, larger areas can be planted in a short time. With time, the aquatic plants switch to their submersed form and strike root in the substrate. However, this is only one possible use of Wabi-Kusa. It is also possible to continue to use the planted soil balls emersed, be it in beautiful plant vases or bowls made of glass or above the water-line a paludarium. These are now very popular methods in which a Wabi-Kusa is regarded as an independent, aesthetic design object to beautify the living space.
Bailin Shaw currently serves as the president of the Chicago Aquatic Plant Society and is a board member of the AGA. A hobbyist for over 35 years, he has been keeping tanks on and off since he was young. He's been involved in the planted tank hobby since 1997. He was one of the founding members of the Oklahoma Aquarium Association, the Dallas-Fort Worth Aquatic Plant club, and the New England Aquatic Plant Society. Bailin has published in a number of tropical fish hobby publications (including Amazonas), and has chaired numerous aquascaping competitions. He works as a scientist when not playing in his fish tanks.